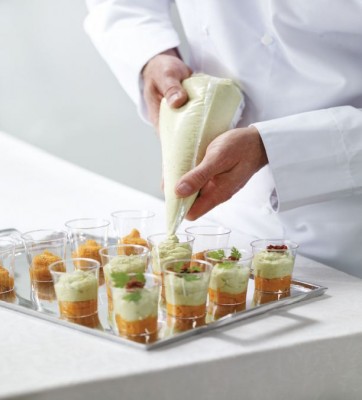 Our strong technology in products prepared from the sea leads us to offer to industrialists a wide and original range of semi-prepared products, which meet the exacting demans and are tailor made for competitive prices.
Our R & D team is at your disposal for:
understanding your needs
analysing your expectations
finding suitable solutions
while ptimising your costs
Download the document "Armand Traiteur Pockets and Rolls" in PDF format.
Amand Traiteur is your partner for fish, meat and vegetable based intermediary prepared products !
Two solutions are available in fresh and frozen:
Fish and Shellfish imitations
Products –
Reconstituted salmon,
Reconstituted white fish,
ST Jacques Imitation (coral, nuts…)
Possibilities –
on the % of fish and vegetable, more or less fibre, more or less firm, etc …
on the presentation : vaccum bagged bulk product, in casings of different sizes, etc…
on the preservation mode: fresh cooked vacuum packed or frozen
Uses –
as main fish, vegetables: in sandwiches, salads, cassolettes, pizza, quiches, rolls, snacks, prepared meals…
The « measurable and spread » preparations
Products –
Rillettes, mousses,
Pulps,
Concentrates of shellfish (lobster, scampi, crabs, shrimps…)
Possibilities –
on the % of fish and vegetable, more or less fibre, more or less firm, etc…
on the presentation : in pocket, in trays, etc…
on the preservation mode: fresh cooked vacuum packed or frozen
Uses –
as stuffing: rolls, snacks, crêpes, avocados, eclairs, sprouts …
as spreads: canape toasts, bread surprise…
as measured product: verrines, gourmet scoops…